Harrison sporting his thrift store outfit.
Yes, it's true. I hit the thrift store jackpot last weekend. So, the week before school starts here in Texas, we have three tax-free days to buy clothes. I have been known in the past to fight the crowds in hopes of scoring some good deals. Since I am now into thrift store shopping, I thought I might find some great deals without the crowds.
I had no idea that my favorite thrift store had an unadvertised sale that EVERYTHING was 25% off. My poor unsuspecting six-year-old daughter had no idea what she had gotten herself into! I told Haley, "Honey, we might be here for awhile!" Let's say she made out pretty good in the end.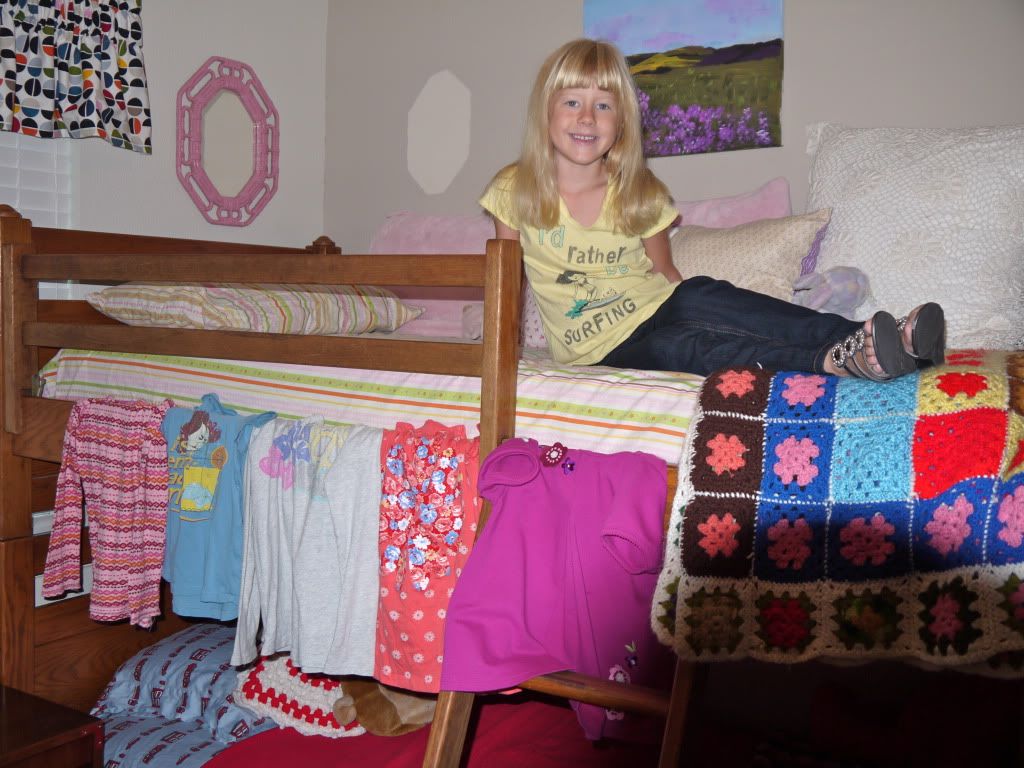 Haley with her thrift store shirts.
After scouring the aisles for an hour, the finds included six shirts for Haley, three shirts for Harrison, khakis for Harrison, two pairs of jeans for myself, two tops for me and a little care bear new with tags for my little partner in crime. Grand total $22.00. That's 15 items for $1.46 each and it was all good stuff. I am picky about what I buy. Well, maybe with the exception of the Spider-man t-shirt that I just knew Harrison would love! One of the pairs of jeans I bought are a dark denim trouser style by Kenneth Cole, they would have cost well over $22.00 at any department store alone.
My thrifty outfit totals under $10.00 including shoes and necklace.
A little tip for those of you who want to venture out thrifting. Many thrift stores don't have dressing rooms. If you wear a skirt, you can slip on jeans under your skirt right there in the aisle. I know, I've lost all inhibition, I think this happens after you have kids! But, it did work and I was able to find two awesome pairs of jeans. Also, wearing a tank top works well to try on shirts. If you search the store, you can usually find a mirror or two.
I took my friend back the next day after church and she found some great stuff. She also talked me into buying a couple pairs of sassy heels. Now, I just need a date night to break them out! I also found my man a fun pair of "weekend" J Crew pants. I guess I just enjoy the aspect of never knowing what you might find at a thrift store and the challenge of it.